We're excited to announce the release of Payouts 2.0, the latest and greatest iteration of our Payouts plugin for WC Vendors. Payouts 2.0 introduces several new features, including a mobile compatible Commissions page for listing commissions and payouts, support for manual bank transfer payments, and full compatibility with WCFM – WooCommerce Frontend Manager. Please read on for more information.
Payouts 2.0 is a major update and users should exercise caution when upgrading. As always, we recommend that you test plugin updates in a staging environment before applying them to your production site.
New Commissions Page
When vendors log into their WC Vendors Pro dashboard, they'll see a new "Commissions" page. The Commissions page contains all of the information your vendors need to keep track of their shop finances, including a list of all commissions earned as well as a list of all payouts the vendor has received. Did we mention that it's paginated and fully mobile compatible?
When a commission has been paid via PayPal Payouts, your vendors will be able to quickly view the details of the associated payout by hovering over the commission and clicking the View Payout link. They can also see a breakdown of each commission by clicking on the value in the Total Commission column.
Improved Payout Detail Screen
In Payouts 2.0, we've redesigned the payout detail screen. Your vendors will appreciate the new and improved design.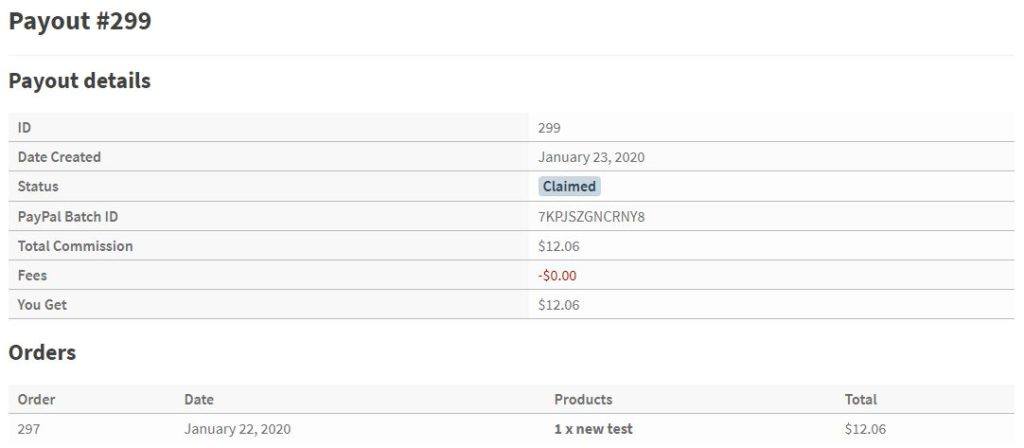 Bank Transfer Support
Payouts 2.0 adds support for manual bank transfers using the bank account information available in WC Vendors. If you enable the bank transfer payment method, your vendors will be able to select if they want to receive their commission payments via PayPal (and the Payouts system) or via a bank transfer. If a vendor chooses to be paid via bank transfer, they will be excluded from the normal Payouts payment process so you can pay their commissions manually. For marketplaces who offer bank transfers, this allows for a seamless integration with the Payouts system.
WooCommerce Frontend Manager
By popular demand, the Payouts plugin is now fully compatible with the WooCommerce Frontend Manager plugin!
Don't have a copy of Payouts yet? Click here to purchase a license.