Please note, access to the "Live" Payouts API must be approved by PayPal.  Before purchasing we suggest
applying for access
 from PayPal, to ensure you will be able to utilize Payouts.
Description
Payouts for WC Vendors enables you to effortlessly pay vendor commissions with PayPal Payouts, the successor to the deprecated Mass Pay and Adaptive Payments APIs. With flexible payment scheduling options, affordable transaction fees, and support for nearly 25 currencies, it is the ideal vendor payment solution for marketplaces accepting PayPal.
Features
Flexible payment options
Payouts offers a variety of payment options. You can pay commissions:
When the customer pays for an item
When a vendor marks their items as "Shipped"
On a set schedule (daily, weekly, bi-weekly or monthly)
Whenever you want, via a manual payment option
Delayed payments
Build in an automatic delay in vendor commission payments, to ensure customers are happy with their items before vendors receive their commissions. This delay can range from as little as 1 day to weeks or months. You're in total control!
Payout fees
Choose whether to pay PayPal fees or pass them on to vendors. Optionally charge an extra fee for each vendor payout.
Full and partial refund support
Easily recover refunded commissions with our PayPal integrated refund system. The refund system will invoice vendors any time you create a refund, and automatically refund the customer once all vendors have returned their commissions. You can even keep tabs on vendors who haven't paid their refund via the WooCommerce Order page!

Payout monitoring
For administrators
Monitor in progress and scheduled payouts from the WordPress dashboard. Easily keep track of the status, amount, and fees for each payout batch and vendor payout.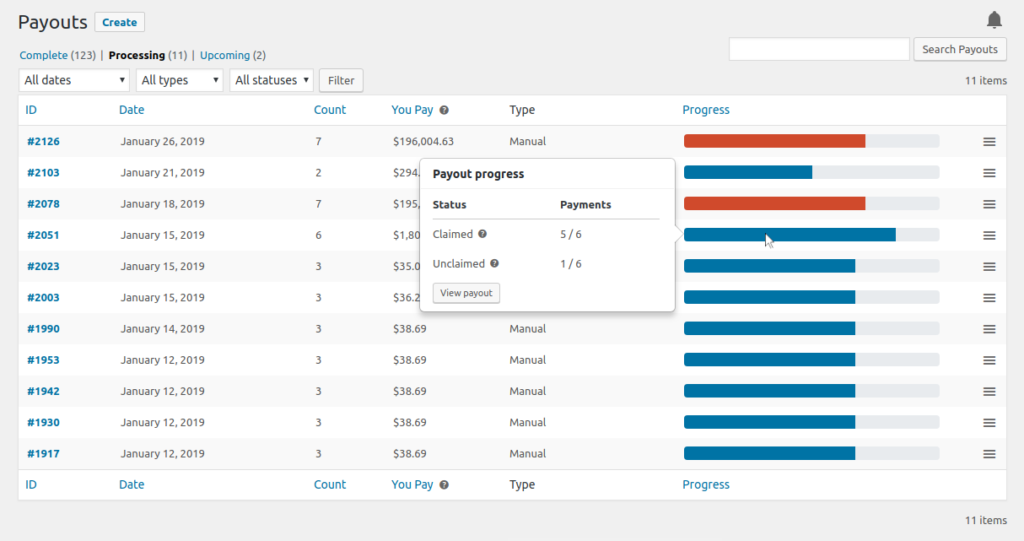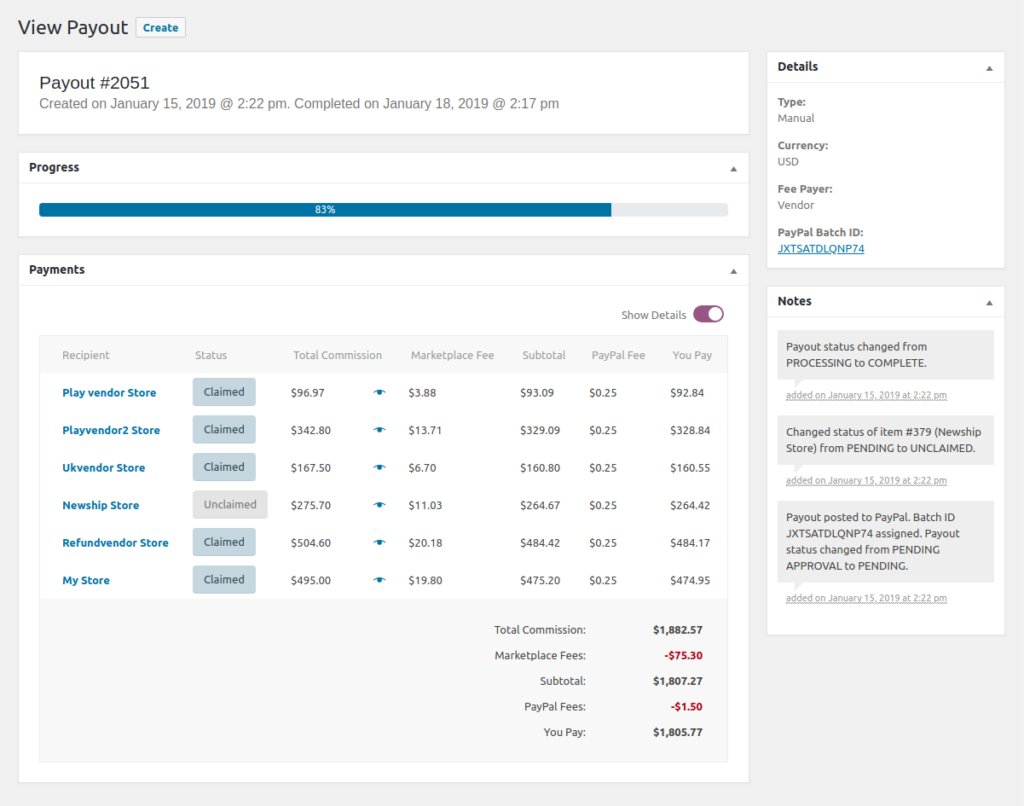 For vendors
Vendors can keep track of both their commissions earned, commission payment status, and their batch payouts from the frontend or backend vendor dashboard.  By clicking "Commission" from either the Pro Dashboard or back end dashboard, vendors will get access to two reports.  The first is a report of the commissions they have earned, along with the status of the commission.  The second report will show the payout batches, along with those batch statuses.  Vendors can toggle between the commission report, and their payout report by selecting which report they want to view:
Commissions Report:

Toggling to the Payouts Report, vendors can click on the payout total to view a breakdown of the payout.
Mousing over the payout line will also give vendors the option to open a detailed view of the payout:
Payout review
Review manually created payouts before they are processed. Check payout amounts and review estimated fees before any funds are transferred.
Low transaction fees
Pay a low, fixed rate fee for payments to vendors in the U.S., and a capped 2% fee for payments to vendors outside of the U.S. See the PayPal fee schedule for more information.
Support for 24 currencies
Payouts supports 24 major currencies, including USD, EUR, GBP, CAD, and AUD. See the PayPal fee schedule for more information.
Q&A
Is Payouts a payment gateway/does Payouts process sales transactions on my website?
No. Payouts is only for paying your vendors their commissions. You will also need a payment gateway to facilitate your customer sales.
Can I use any payment gateway to process my website sales?
Yes, Payouts is gateway agnostic! With that said, Payouts does utilize PayPal to pay your vendors, so if you're not using PayPal to accept payments, you will need to make sure that there's enough money in your PayPal account to cover any payouts.
Do my vendors need a PayPal account in order to get paid via Payouts?
Yes. Vendors must create a PayPal account in order to claim any payments sent via Payouts.
Are there any fees for sending payments?
Yes. For payments to vendors with PayPal accounts in the U.S. you pay a flat fee equivalent to $0.25 USD, and for vendors outside of the U.S. you pay a capped 2% fee. For more information, please consult the PayPal Merchant Fees.
I want my vendors to cover the payout fees. What can I do?
That's easy! Simply set the Fee Payer option to Vendor and Payouts will automatically deduct any PayPal payout fees from the amount paid to your vendors.
Reviews
You must log in to submit a review.