This item is compatible with WordPress 5.3.0+, WooCommerce 3.0.0+, WC Vendors 1.9.14+, and PHP 5.6+.
Description
Payouts is a robust and flexible platform for building the perfect commission payment system for your WC Vendors marketplace. Whether you need to send commissions directly to vendors' PayPal accounts at the point of sale, delay payment of commissions until an order is shipped, or allow vendors to request a withdrawal when a minimum balance is reached, it's all possible with Payouts!
Use Cases
Send payments to up to 10 vendors instantly when a customer pays with PayPal Express Checkout. Each vendor's payment goes directly into their PayPal account and the marketplace commission goes into yours.
Use PayPal Payouts to pay vendors via PayPal or Venmo at the time of your choice:

When the customer pays for an item
When a vendor marks their items as "Shipped"
On a set schedule (daily, weekly, bi-weekly or monthly)
When a vendor requests to withdraw their commissions
Whenever you want, with the click of a button

Optionally allow vendors to request payment via manual bank transfer / ACH.
Payment Methods
Payouts supports multiple payment methods. You can decide which ones to enable based on your marketplace's unique needs.
PayPal Express Checkout
The Express Checkout payment method enables you to send each vendor's payment directly to their PayPal account during checkout. It's a great option if your marketplace is in a jurisdiction where taking payment on behalf of vendors creates a sticky legal situation, or if you just want to get your vendors paid ASAP.
PayPal Payouts
PayPal Payouts is the successor to the deprecated Mass Pay and Adaptive Payments APIs. With flexible payment scheduling options, affordable transaction fees, and support for nearly 25 currencies, it is an excellent payment solution for marketplaces accepting PayPal.
Features
Custom payment triggers – You can pay commissions when the customer pays for an item, when the vendor marks their items as "shipped", on a set schedule (daily, weekly, bi-weekly, or monthly), on vendor request, or whenever you want with the click of a button. Developers can create additional payment triggers as needed.
Venmo payouts – Optionally enable the Venmo payout method to let vendors accept payment with a US mobile number.
Payout requests – Enable payout requests to let vendors request payment from the vendor dashboard. You can set a minimum payout so that vendors can only request payment when their balance hits a certain threshold. Payout requests are easily managed with a notice that integrates cleanly into the vendor dashboard.

Vendors can easily request a payment when the payout requests feature is enabled. It's as easy as clicking a button.

Delayed payments – Build in an automatic delay in vendor commission payments, to ensure customers are happy with their items before vendors receive their commissions. This delay can range from as little as 1 day to weeks or months. You're in total control!
Payout fees – Choose whether to pay PayPal fees or pass them on to vendors. Optionally charge an extra fee for each vendor payout and set a cap on your fees. Both the payout fee and fee cap can be overridden for individual vendors.
Please note, access to the "Live" Payouts API must be approved by PayPal. If you plan to use PayPal Payouts, we suggest
applying for access
from PayPal before purchasing to ensure you'll be able to utilize it.
Bank Transfer
The Bank Transfer payment method allows vendors to request payment via bank transfer / ACH. Bank transfer payouts must be processed manually, but can still be managed and tracked from the WP admin dashboard.
Key Features
Full and partial refund support
Easily recover refunded commissions with our PayPal integrated refund system. The refund system will invoice vendors any time you create a refund, and automatically refund the customer once all vendors have returned their commissions. You can even keep tabs on vendors who haven't paid their refund via the WooCommerce Order page!

Payout monitoring
For administrators
Monitor in progress and scheduled payouts from the WordPress dashboard. Easily keep track of the status, amount, and fees for each payout batch and vendor payout.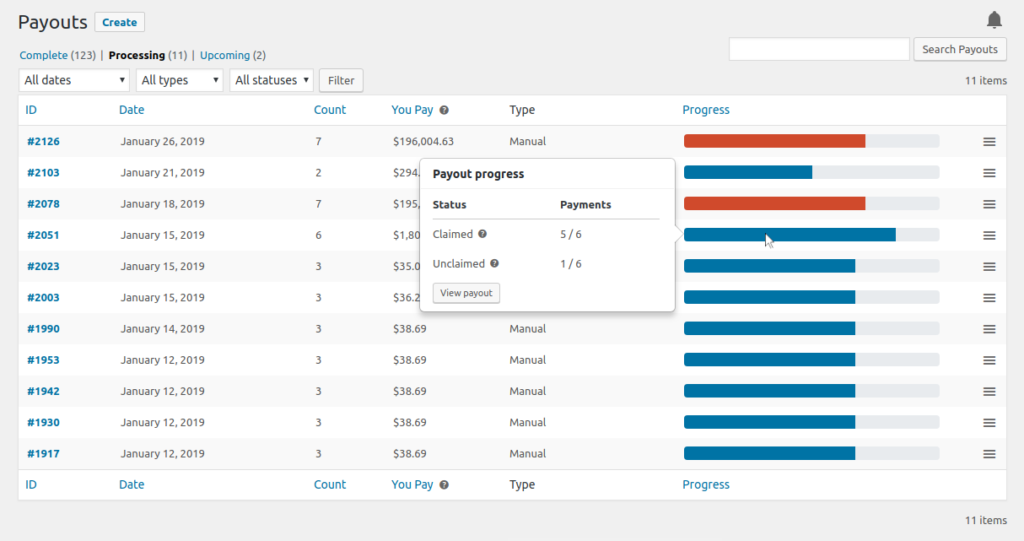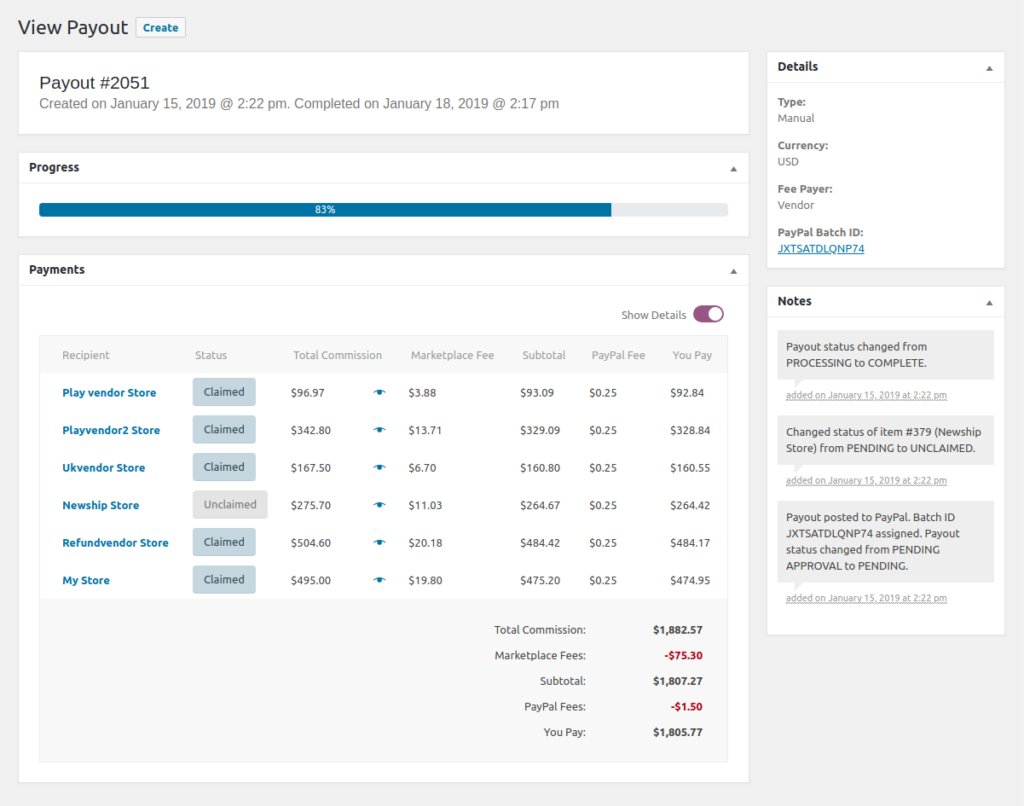 For vendors
Payouts adds two helpful reports to the WC Vendors Pro dashboard. The first report shows a breakdown of the commissions the vendor has earned, and the second report shows the payouts the vendor has received. Both reports include date and status filters to help your vendors find the information they're looking for.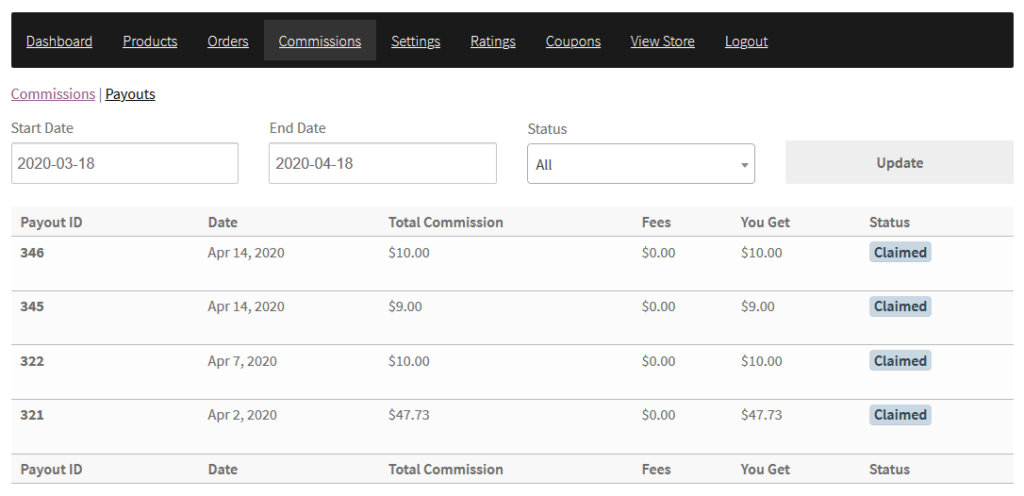 WooCommerce Frontend Manager support
Payouts is fully compatible with WCFM – WooCommerce Frontend Manager and integrates cleanly into the WCFM dashboard.
Q&A
Is Payouts a payment gateway/does Payouts process sales transactions on my website?
The Express Checkout payment method comes with its own payment gateway, so if you have it enabled Payouts will handle collecting customer payments. However, if you choose not to enable the Express Checkout payment method you will need a separate payment gateway to facilitate your sales.
Can I use any payment gateway to process my website sales?
Yes, Payouts is gateway agnostic! With that said, the PayPal Payouts payment method uses your PayPal balance to pay vendors, so if you're not using PayPal to accept payments, you will need to make sure that your PayPal balance is sufficient to cover any payouts.
Do my vendors need a PayPal account in order to get paid via PayPal Payouts?
Yes. Vendors must create a PayPal account in order to claim any payments sent via PayPal Payouts.
Are there any fees for sending payments with PayPal Payouts?
Yes. For payments to vendors with PayPal accounts in the U.S. you pay a flat fee equivalent to $0.25 USD, and for vendors outside of the U.S. you pay a capped 2% fee. For more information, please consult the PayPal Merchant Fees.
I want my vendors to cover the PayPal Payout fees. What can I do?
That's easy! Simply set the Fee Payer option to Vendor and Payouts will automatically deduct any PayPal payout fees from the amount paid to your vendors.
Reviews
You must log in and be a buyer of this download to submit a review.
You may also like...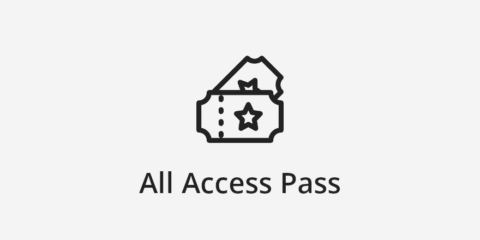 $129.99
Get all of our add-ons for Dokan, WC Vendors, and WCFM for a single low price.