This item is compatible with WordPress 4.4.0+, WooCommerce 3.5.0+, Dokan 2.6.0+, WC Vendors 2.0.0+, WC Vendors Pro 1.5.4+, and WCFM Marketplace 3.4.0+.
Description
MarketShip is a robust and flexible shipping solution for marketplaces built with Dokan, WC Vendors, and WCFM Marketplace. Whether you want to replace your marketplace's built in shipping system with one that's easier to use or simply enable vendors to print shipping labels from the vendor dashboard, MarketShip has everything you need to set up a functional and efficient shipping system for your marketplace.
Features
Purchase and Print Shipping Labels
When MarketShip's Label Printing feature is enabled vendors can purchase and print shipping labels directly from the vendor dashboard. The whole process is done through a simple, streamlined modal window which integrates cleanly into the surrounding interface. On the back end, MarketShip leverages the Shippo API to allow for shipping rate calculation and label purchase.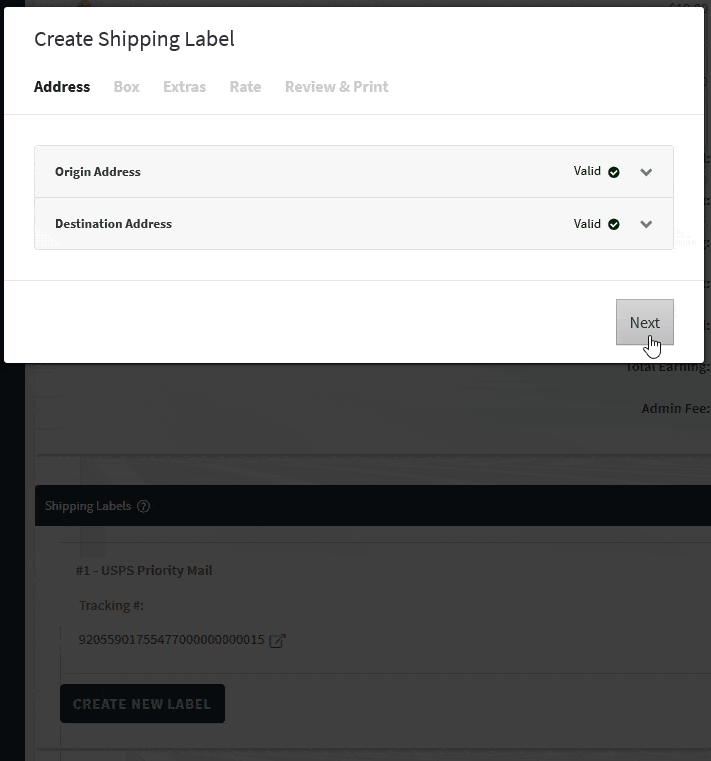 Vendors can either take advantage of the discounted shipping rates provided through one of Shippo's master carrier accounts or connect their own carrier accounts to Shippo to leverage their negotiated rates. Best of all, Shippo handles all billing and support directly so you never have to bill your vendors for postage.
You have the option of allowing vendors to purchase shipping labels through your Shippo account (labels billed to you), or have them create their own account (vendors charged directly for their labels)!
Shipment Tracking
When a vendor prints a shipping label with MarketShip, the tracking number displays on the order screen and it is also included in the email sent to the customer when the order is marked as "Completed."

In Transit and Delivery Confirmation Emails
When these notifications are enabled, they will replace the default shipment notifications of Dokan, WC Vendors or WCFM. Instead of sending a customer notification when a label is printed, they will instead notify the customer when their shipment has been picked up by the shipment carrier, and marked as either "In Transit" or "Delivered."
Shipping Calculations
If you want to offer more than the ability to purchase shipping labels you can optionally enable MarketShip's Shipping Calculations feature. The Shipping Calculations feature enables three new shipping methods for your vendors, including:
Live Rates – Real Time Shipping Rate Calculation
The Live Rates method allows vendors to provide their customers with real time shipping quotes from any of Shippo's carrier partners, including USPS, FedEx, UPS, and more. By default vendors must connect their own Shippo account to utilize Live Rates, but you can enable the Use Admin Account for Calculations feature to use your own Shippo account for Live Rates calculations instead. This is a great option if you want to provide a way for vendors to offer live shipping rates while keeping the number of vendor onboarding steps to a minimum.
Flat Rate
MarketShip's Flat Rate shipping method allows vendors to set flat shipping rates for entire continents, countries, and states.
Free Shipping
The Free Shipping method is a dead simple shipping method that allows vendors to ship their products for free.
Please note that these shipping methods will be offered in addition to any shipping methods that are part of your marketplace's native shipping system. You can easily control which shipping methods are available to vendors from the MarketShip settings page:

Per-Product Shipping
Starting with MarketShip 2.0 you can optionally enable Per-Product Shipping to allow vendors to assign a different shipping method to each of their products. This provides vendors with more granular control over how their products are shipped at the expense of some added complexity.
WCFM Integration
MarketShip is fully compatible with WCFM Frontend Manager and WCFM Marketplace and integrates cleanly into the WCFM dashboard.
Table Rate Shipping Integration
If your marketplace is running our Table Rate Shipping plugin, Table Rate Shipping will appear as another shipping option for your vendors.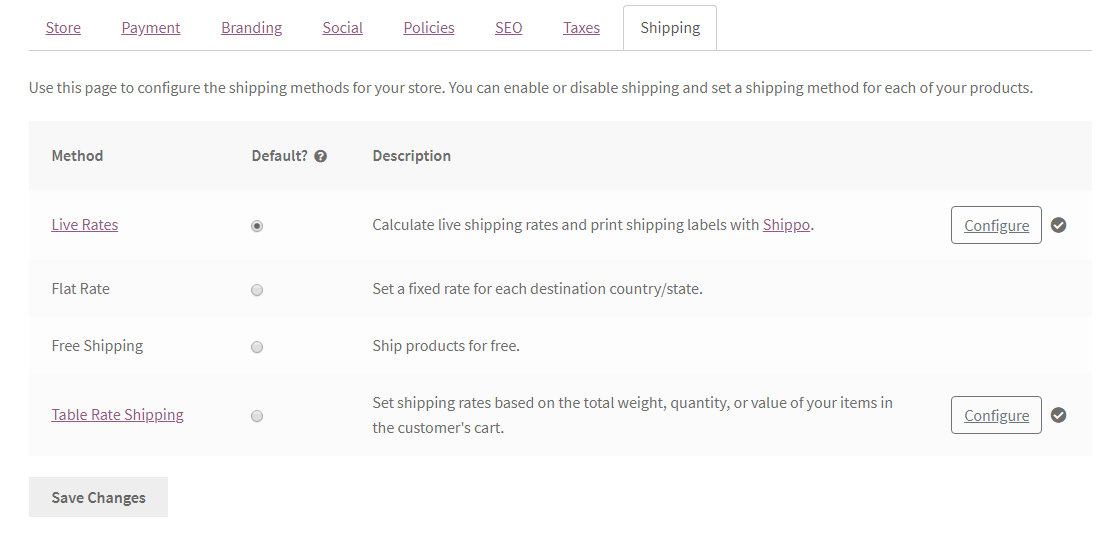 Q&A
Which marketplace plugins are supported?
MarketShip supports Dokan 2.6.0+, WC Vendors 2.0.0+, and WCFM Marketplace 3.4.0+.
What is the cost of Shippo?
Shippo's Pay as You Go plan is free with an additional cost of $0.05 per label printed. Plans with no per label fee are available for vendors with higher shipping volumes.
For more information, please consult Shippo's pricing page.
Do I need a Shippo account?
In most cases the marketplace does not need a Shippo account. You will only need a Shippo account if you plan to enable Shipping Calculations and toggle on the Use Admin Account for Calculations feature. The vendor's Shippo account will always be used for purchasing shipping labels and will also be used to retrieve shipping rates when Use Admin Account for Calculations is disabled.
My vendors already have shipping set up. What will happen if I activate MarketShip?
To the extent possible MarketShip will honor your vendors' existing shipping settings. For example, if one of your vendors is using the Dokan Shipping Zones system to calculate shipping for their products when MarketShip is activated, MarketShip will try to use Dokan Shipping Zones to calculate shipping for all of their products.
In general the migration from your marketplace's native shipping system to MarketShip should be pretty smooth, although we always recommend exercising caution and testing MarketShip in a test or staging environment first before deploying it to your production site.
Reviews
If you need a plugin that allows vendors on your marketplace to add shipping labels to their orders this is the perfect plugin for you! Support is quick and friendly as well as an added bonus.
The plugin developer provided me with fast support to get my plugin up and running. I had an issue with my Wholesale Plugin Suite that was hiding shipping rates and they walked me through potential solutions until I found out that I had a box checked that hid the MarketShip rates.
1. If you know how to connect APIs then this integration will be super easy.
2. The WCFM built-in shipping provides a horrible user experience for vendors and this plugin simplifies it to make the setup so simple that it reduces the work to just a couple of steps for your vendors
3. The fact that it integrates with Shippo means that you get access to pricing discounts, multiple shipping carriers, and label printing
4. Vendors can connect their own Shippo or use the Admin rates to make life simple
5. I'm already a repeat customer and if they come out with more WCFM integrations then I'll be at the front of the line.
Suggestions:
1. Create a video tutorial for each compatible multivendor plugin (like WCFM) for new buyers to follow step by step.
2. You made such a great API integration with Shippo so why stop there? Make more plugins that are compatible with WCFM for vendors to import, export, and sync inventory with other marketplaces. Examples would be Shopify, Amazon, Square, Walmart, Wish, StorEnvy, WooCommerce, BigCommerce, NetSuite, Houzz, Overstock.com, Wayfair, Quickbooks, Hubspot, etc. Basically Sellbrite/Farapp for WCFM multivendors.
Update to the suggestions. How about an integration with Sellbrite for vendors to connect their Sellbrite accounts? FarApp just got sold to NetSuite so I wouldn't waste time on their platform until the acquisition gets figured out.

Hey Andrew,

Thanks for the review and the suggestions!

We're actively planning our next product right now, and I think a Sellbrite integration sounds like an excellent idea. I don't want to make any firm commitments, but I think you'll likely see something like that from us in the coming months.

Best regards,
Brett
I have a Dokan multi vendor shop and unfortunately they don't offer an easy shipment set up for my vendors so I was looking for a plugin that would help me and my vendors to easily calculate the shipping rate without any hassle. I was then recommended to check Marketship and I am really happy to have purchased their plugin. It really does the work, you just need to set it up once correctly and you are ready to go. During the first set up I encountered some issues/had some unclarities, but Chris from Marketship was of great help. He really thinks along and offers custom-tailored solutions Would highly recommend this plugin!
I used dokan multivendor and woocommerce and this plugin does the job but, once the printing shipping label process started no way to quit of close the popup from the page.
Sorry to hear you had problems with MarketShip. It sounds like there might be a conflict with your theme. Please reach out to our support so we can help you resolve this problem: https://docs.thepluginpros.com/submit-a-ticket/

EDIT: For the record, the customer's complaint was that there were no clear "close" buttons in the modal dialogs in MarketShip. We followed up within 3 days of hearing this complaint to add "close" buttons to all modals in our plugin.
You must log in and be a buyer of this download to submit a review.
You may also like...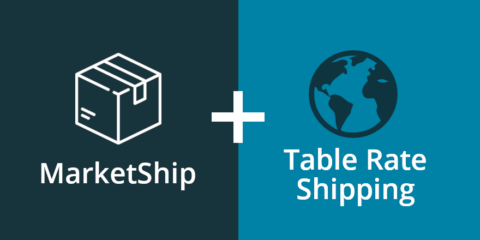 From $99.99
The Pro Shipping Pass gives you access to both MarketShip and Table Rate Shipping, allowing you to provide the most robust shipping solution available for WC Vendors Pro users.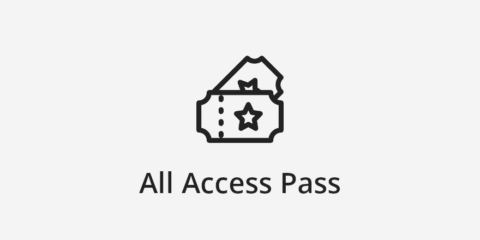 $129.99
Get all of our add-ons for Dokan, WC Vendors, and WCFM for a single low price.